Loshi Moisture Skin Cream 220g [6 Types To Choose]
SKU:
LOSMOIS
Availability:
Ships in 3-4 working days
Width:
8.00 (cm)
Height:
8.00 (cm)
Depth:
8.00 (cm)
Loshi Moisture Skin Cream 220g [6 Types To Choose]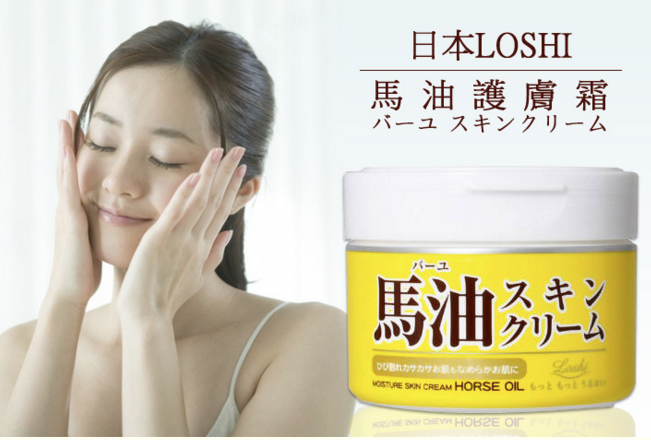 1 ) Aloe Moisture Skin Cream
- Given the moisture on your skin.
- Penetration superior to the stratum corneum, gives the moisture to dry skin.
- Prevents rough skin caused by dry skin and keeps moisture in skin health.
- Regardless of the skin texture and even gone and in the use of sensitive can use plenty of body.
2 ) Hatamugi Moisture Skin Cream
Great light moisturizing cream for face and body! This time with Pearl Barley extract - for better moisturizing.
3 ) Horse Oil Moisture Skin Cream
Horse Oil Cream is a deeply hydrating & soothing cream for face & body. Contains horse oil derived from 100% pure horse fat, rich in essential fatty acids. Blended with shea butter, glycerin, urea & aloe vera. Helps deeply hydrate & revitalize dry skin. Improves skin problems such as acne, freckles, wrinkles & roughness. Soothes irritation & fatigued muscles. Boosts skin elasticity & promotes its self-healing power. Restores calm, soft, smooth, even-toned, comfortable & healthy looking skin. Perfect for all skin types, even eczema

4 ) Lithospermum Root Moisture Skin Cream
Lithospermum Root - Enriched with a precious regerate ingredient - Gromwell Root. Rejuvenates dull skin cells and revitalizes skin cells' elasticity.

5 ) Coenzyme Q10 Moisture Skin Cream
Q10 cream retains moisture, smoothens fine lines, and firms skin. Contains Q10 all-rounded revitalizing skin essence. It can hydrates skin, eliminating wrinkles and fine lines for skin, provide skin with anti-aging nutrients and increase the elasticity of the skin.After use, skin would be tight and smooth. It can be used on face and body skin. Suitable for all skin type.

6 ) Urea Moisture Skin Cream
UREA Moisture Skin Cream contains moisturizing and nourishing Urea extracts, which strengthens the blood circulation of the top layer of the skin. The outstanding trait of protecting skin from over-drying moisturizes the over drying skin. This cream can be used for the whole body.